"The Faith Life"
In last month's issue we saw that we needed to be committed to a local Church that teaches the uncompromising Word of Faith. As Brother Copeland, and many other Word ministers are teaching now, we need to be committed people as Christians. The faith walk is not a "flowery bed of ease!" Some people may like to think that it is, but that doesn't make it so. However, I didn't say that this life is hard either. You may think that it must be one or the other. No! It is not hard because Jesus has done the hard part – He came, lived the perfect will of God – a sinless life, then He died. In dying, He was made to be sin. (2 Corinth. 5:21) I didn't say that He committed sin – He didn't, He lived a sinless life. But, when He took our sins on Himself (1 Peter 2:24) He was made to be sin. In other words, an exchange took place. He took our sins on His Body and became sin. That made possible, when we become born-again believers, our being made (not by our works) the righteousness of God in Him. Why go into this?
To illustrate this – the hard part has been accomplished in our living in God by faith. Jesus provided it for us! We, as Christians have been made the righteousness of God in Him! Now, because we are the righteousness of God we are in proper standing and relationship to our heavenly Father.
That is what "righteousness" means – "right-standing." Does this mean that as Christians we are incapable of sinning? No! I believe that we know better than that! Listen to James 1:19, 20, "Wherefore, my beloved brethren, let every man be swift to hear, slow to speak, slow to wrath: For the wrath of man worketh not the righteousness of God." Notice, if we don't act, live and operate properly in our Christian life, we do not cease to be the righteousness of God – we are simply not working our righteousness. Some folks feel that if they are born-again – then commit a sin – that they need to be "born-again again" Brethren, that's not possible! No, if we commit a sin after we are born again we need to confess it as sin and act on 1 John 1:9. If we confess our sin, God forgives us and forgets that sin! Notice that verse – He cleanses us from all unrighteousness! Praise God! If you sin – confess it – then don't let satan condemn you any more (Rom. 8:1).
There is another error that some folks fall into. They seem to believe that as Christians, it is alright to do anything, live any way – and still think that they can get in on all the blessings God's Word promises. This is wrong as well! As Christians we are not to have a sin consciousness, that's true, BUT – 1 John 1:10 says, "If we say that we have not sinned, we make Him a liar, and His Word is not in us." But, isn't this talking to sinners? No, this chapter is written to Christians. Read the chapter closely. Besides, this verse says, "… His Word is not in us…" if we say we never sin. Who is the Word in? Sinners? No! God's engrafted Word is in believers! Notice the first verse of Chapter Two of 1 John. "My little children, these things write I unto you, that ye sin not. Who did he write them to? Brethren. Christians! Why? That they would sin not. But notice what he goes on to say. "And if any man sin, we have an advocate with the Father, Jesus Christ the righteous…" (1 John 2:1) We, as Christians, have Jesus as an advocate in case we do sin! What is an advocate?
The Greek word here is – "parakletos." W.E. Vine's Expository of New Testament Words says of this word – "…called to one's side, i.e., to one's aid… used to denote a legal assistant…generally, one who pleads another's case, an intercessor…" Glory to God! Jesus is interceding before God – on our case – as our lawyer! He's a good one too!
What does all this lead us to? Well, we, as Christians, been made the righteousness of God, we should not have a sin consciousness. That is, constantly thinking, "I'm just a dirty, rotten sinner – God can't use me!" (God can't use you while you think like that!) But, on the other hand, we have an advocate, Jesus, if we do commit sin. If we do slip up and sin – we should confess it – then go on with God. yourself in a position of pure fellowship with your Father. Don't sin – but if you do, confess it, and go on with Him! Colossians 1:10-29 describes this best. Let's look at a few these scriptures, then after reading this article – read the whole chapter!
"That ye might walk worthy of the Lord unto all pleasing, being fruitful in every good work, and increasing in the knowledge of God… (Jesus) hath delivered us from the power of darkness, and hath translated us into the kingdom of His dear ion, _in whom we have redemption through His Bloods even the forgiveness of sins…" Notice, Jesus hath, already done it! That may not be good English, but it is good news! We have redemption through Him! Finally, look at verse 21 – "And you, that were sometime alienated and enemies in your mind by wicked works, yet now hath He reconciled in the Body of His Flesh through death, to present you holy and unblameable and unreproveable in His sight: if_ ye continue in the faith grounded and settled, and be not moved away from the hope (expectation) of the Gospel…" Glory! If you continue in the faith and in the Word you are presented holy and unblameable and unreprovable! Brethren take these things to heart- continue in the faith of God's Word. "For without faith it is impossible to please Him." (Heb. 11:6)
Television Appearance in South Carolina
On May 2nd, Brother Bill and Pastor Gary Price, from Taylors Grove Church, were interviewed on Channel 57 in Columbia, SC. Here, the cameramen get ready for the "Nite Line" program.
| | |
| --- | --- |
| | |
| The "Nite Line" Crew | Brother Bill and Pastor Price |
| | |
C. Franklin Bailey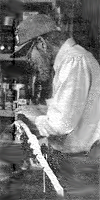 The 22nd of last month (April 1983,) my father, Frank Bailey, went home to be with the Lord. He and my mother, Bonnie Bailey, raised me in the nurture and admonition of the Lord and are responsible for my now serving the Lord in the Ministry. Dad was, and is, a shining example, not only to me, but others – of serving the Lord Jesus with all your heart! Mom, Joy, and I want to thank all of you for your prayers and letters. The picture at left is of Dad working on a favorite hobby – making walking sticks. It was taken in his shop where he liked to "piddle around." Here's to the "Mayor of Flat Swamp!" We'll miss you.
Items of Interest in This Issue
Invitation to the Concord Believer's Convention… Invitation to the Word of Faith Satellite Seminar at Taylors Grove Church… Tape Offer: "The Life of Faith"