"Intercession"
In this day we are hearing more and more about the need for intercession. There is a call of God to the Christian to intercede for their church, community and the world. We need to take this call very seriously!
"I exhort therefore, that, first of all, supplications, prayers, intercessions, and giving of thanks, be made for all men; For kings, and for all that are in authority; that we may lead a quiet and peaceable life in all godliness and honesty. For this is good and acceptable in the sight of God our Savior; Who will have all men to be saved; and to come unto the knowledge of the truth." (1 Timothy 2:1-4)
Notice that prayer and intercession is a priority! We are to pray – first of all. Why pray for those that are in authority? That we may lead quiet and peaceful lives in godliness and honesty. I heard Brother Kenneth Copeland say once that every wave of revival in the world was soon followed by and attempt by satan to stir up war on the earth. Every time the revival was side tracked because people got their eyes off of spiritual things and unto the state of world affairs. Not this time! We are forewarned, if we desire quiet, peaceful times to be free to minister the Gospel to the world, we must pray! Pray for those that are in authority – in government, in the schools, in the police forces of our nation – and in the churches! Lift up your pastor in intercessory prayer!
Verse four of 1 Timothy Chapter Two says that it is God's will that all men be saved. God's will is clear, He provided Jesus as a sacrifice for the world, He wants them saved. But, God's will does not always come to pass automatically. He didn't want Israel to have a king, but they kept badgering Him to let them be like other nations and have one – it almost ruined them. His perfect will was for them to allow Him to rule them – as a "Theocracy." But they rejected His perfect will. God's will is for all to be saved, BUT people must receive Jesus by choice. By prayer we can help to supernaturally "birth" people into the Kingdom of God! Notice also, it is God's will that all be saved and come to the knowledge of the truth. What is the truth? God's Word is the Truth! (John 17:17) He wants people to come into knowledge of His Word!
What part does intercession play in this? It changes circumstances, allows the spiritual atmosphere to change, "births" people into the kingdom – and at the same time it helps you! How? Intercession is done mainly by praying in the spirit, or in other tongues. (1 Corinth. 14:14) When you pray in the spirit Jude verses 20 and 21 says that you are building yourself up on your most holy faith and keeping yourself in the love of God. You don't build your faith by intercession – you build yourself up on your faith. This agrees with 1 Corinth. 14:4, you are edified, or as the Greek says here, "charged up" when you pray in the spirit. We need to build ourselves up by praying in the spirit, and at the same time we are keeping ourselves in the love of God! That is the context of Jude verse 20. Intercession is the highest expression of God's Love working in us. We are being used of God, unselfishly to pray and lift up others, yet God uses this very act of intercession to build us up in that prayer time on our faith. Do you desire to be strongly used of God? Then allow: Him to use you in the powerful ministry of intercessory prayer!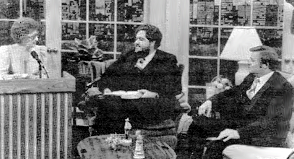 Television Appearance in South Carolina
On May 2nd, Brother Bill and Pastor Gary Price, from Taylors Grove Church, were interviewed on Channel 57 in Columbia, SC.
Second TV Appearance
On May 26th, Brother Bill and Pastor Price appeared on South Carolina Channel 16, in Greenville.
Last month they appeared on Channel 57, Columbia, SC
Items of Interest in This Issue
Daily Confessions… Invitation to the Word of Faith Satellite Seminar at Taylors Grove Church… Itinerary