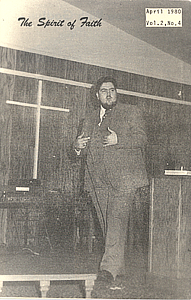 Bill Bailey Ministries was the name of Dr. Bill's ministry before Word of Faith Ministries.
Main Article

"Agree With God!"
God's Word is true! He is not a man that He should lie. (Num. 23:19) Indeed, the Word says that it is impossible for God to lie! (Heb. 6:18) This being the case, when God tells us who we are in the light of His Word, we should believe Him! If He says that we have been made the righteousness of God in Jesus, we should agree with Him. (2 Corinth. 5:21) If He says that we are the healed and that Jesus bore our sicknesses and diseases, we should agree with Him. (1 Peter 2:24, Matt. 8:17) If He says that we have been given the power to get wealth so that God can establish His Word in the earth and that Jesus became poor so that we might be made rich, then we should agree with Him. (Deut. 8:18, 2 Corinth. 8:9)

All of our theological arguments against these things fall short when we simply understand that God hasn't lied about it! He has said these things about us and we need to accept them and get in line with them. But how do I get in line with what God has said? I don't feel righteous, I don't feel healed, I don't feel prosperous. The key word here is feel, you don't feel this way or that. What has your feelings, or lack of them, have to do with whether or not God's Word is true? Nothing at all! We are to walk by faith not by our five physical senses, which includes our feelings! (2 Corinth. 5:7) Well, Brother Bill, what should I do? Simple! Agree with God! God is watching over His Word to perform it! (Jer. 1:12) We have heard for some time the scripture in Matt. 18:19 quoted often, "...if two of you shall agree on earth as touching any thing that they shall ask, it shall be done for them of my Father which is in heaven." If any two of you agree.. Who better to agree with than God! Agree that His Word is true!