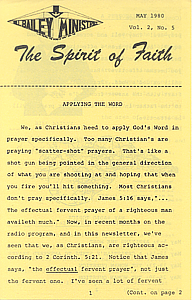 Bill Bailey Ministries was the name of Dr. Bill's ministry before Word of Faith Ministries.
Main Article

"Applying the Word"
We, as Christians, need to apply God's Word in prayer specifically. Too many Christian's are praying "scatter-shot" prayers. That's like a shot gun being pointed in the general direction of what you are shooting at and hoping that when you fire you'll hit something. Most Christians don't pray specifically. James 5:16 says,"... The effectual fervent prayer of a righteous man availeth much." Now, in recent months on the radio program, and in this newsletter, we've seen that we, as Christians, are righteous according to 2 Corinth. 5:21.

Notice that James says, "the effectual fervent prayer," not just the fervent one. I've seen a lot of fervent pray-ers! They yell and scream and ball and squall, but they aren't effective when they pray. Being effective is what its all about! How do you become effective? Base your prayer specifically on God's Word. Pray in line with the Word. Start with the answer from God's Word and take it to the Father in Jesus' Name. Your prayers will be effective!