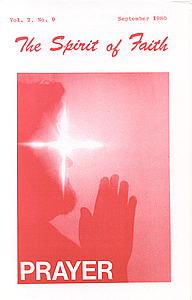 Bill Bailey Ministries was the name of Dr. Bill's ministry before Word of Faith Ministries.
Main Article

"Prayer"
"The effectual fervent prayer of a righteous man availeth much." (James 5:16b)


What is effectual prayer? It is prayer that is effective. It works! It does something that changes your circumstances. When you pray you don't change God. He is unchangeable (Mai. 3:6). You pray to change circumstances. You can change things through prayer! There are four types of prayer that change things: the Prayer of Agreement (Matt. 18:19,20), the Prayer of Binding and Loosing (Matt. 18:18), the Prayer of Petition and Supplication (Phil.4:6, 1 Tim. 2:1), and the Prayer of Intercession (1 Tim. 2:1, Rom.8:26, Col.2:1). These types of prayer are like tools - if they are used properly they will get the job done. You don't use a saw to drill a hole. You use a drill. That is the proper tool. In the same way, you wouldn't use the prayer of Agreement in a situation in which the prayer of Intercession is appropriate. There are different kinds of prayer. Eph. 6:18 says that we should pray always with all prayer (the Greek says, "all different kinds of prayer"). God has given us the proper tools to do the job. Jesus taught his staff to pray,". . . (God's) will be done in earth, as it is in Heaven..." (Matt. 6:10). In other words, pray that things be done on earth in the same way that they are done in Heaven. Is there sickness in Heaven? Any pain? Any lack? NO!